Chennai:
After losing a court battle to have the ban on his film Vishwaroopman rescinded, actor Kamal Haasan appeared on the terrace of his office and told hundreds of fans gathered there to stay calm. "I am struggling for justice," he said, "don't give in to anger."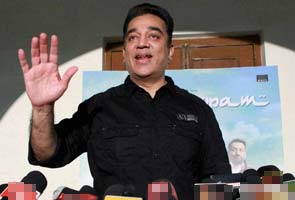 It was the sort of sound advice a lead character in a big-budget film could deliver a few plot points away from a happy ending.
In real life, however, the suspense about Kamal Haasan's spy-thriller appears nowhere near resolution.
The Madras High Court today agreed with a two-week ban on Vishwaroopam ordered by the government last week after Muslim groups said the movie's depiction of the community is offensive. Minutes before he lost his court case, Kamal Haasan said he had agreed to drop contentious scenes and words. "My Muslim family has reached out to me... we have settled amicably," he said.
The High Court's ruling means the film cannot release in the state till Wednesday, February 6.
At a press conference in the morning, Kamal Haasan suggested that the battle over Vishwaroopam is a crucible of India's secularism, and threatened to leave Tamil Nadu if the ban on the movie was not lifted. "If there is no secular state in India, I would go overseas," he said.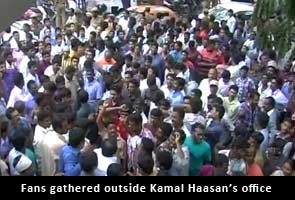 While his decision to re-edit the film a few hours later was a sharp deviation from that stand, those close to the superstar point out that the overwhelming financial pressure of a large-budget film may have forced the compromise. Kamal Haasan shared today that his house and other properties have been pledged to a money-lender. His brother, Chandra, has said the movie has lost between 30 and 60 crores because it has not screened as scheduled in Tamil Nadu. He said the brothers will wait to see what happens when the two-week blackout ends on Wednesday before deciding whether to appeal to the Supreme Court for help.
Sources say that his supporters believe that the ban, so ardently advocated by the government, is not unhinged from politics. By backing Muslim protests, the ruling AIADMK is showing its support for a votebank traditionally loyal to its rival DMK. And the television rights for Vishwaroopam were granted eventually to Vijay TV and not Jaya TV, the mouthpiece of ruling AIADMK.